Welcome to the Nightmare Factory, ladies and gentlemen!
A recurring fallacy in the modding community that mods have to be these huge, game-changing compilations of features and content on the level of
Dark Injection
, or dear old
BetterSpore
(RIP). This, however, isn't how things work. Spore is like the Wild West, lawless and full of cowboys, doing their own thing and I don't know where to go with this metaphor, so let's just move on.
Basically, what I'm getting at is that there are plenty of small mods that make changes to only a handful of files or even just a single one. Mods that honestly don't need a full 1,000+ word essay on what they can do, how they work, etc. Enter this page: just a lil' ol' place for me to chuck in my smaller mods that I'm not bothered about making a full thread for, most of which are experimental anyway and aren't expected to go further beyond their release versions posted here.
As a general rule, these mods still shouldn't be distributed, as doing so does lead to potential disaster, as with the March 2017 patch to the game that broke dozens of mods. That being said, stay for a while and see what tickles your fancy.
Welcome, to Psi's Lab.
PSI_115: InvisiSkin
This mod does exactly what it says on the tin. While a creature is animating or otherwise unselected, the skin is unrendered, leaving only solid parts and non-skin limbs attached to the invisible surface, in much the same vein as an invisible limb. However, the mod is indiscriminate, and affects all creations, in-game and in the editors, as well as the PNG previews (albeit in that case, removing the mod will cause the PNG to remain the same, but the creature when viewed will have it's skin visible). In essence, it works similarly to the
True Invisible Limbs
component of
Dark Injection
, useful only in niche circumstances and honestly meant only as an Editor-Only Player Tool. The invisible body does however still produce a shadow. This will either be fixed in a future version of this mod, or require another.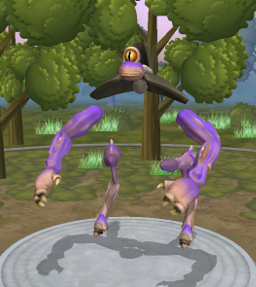 A still showing how the editor functions. Note that Exoskeletal and any non-skin-type limbs will remain visible, giving the illusion that they are detatched.
Download
Version 01
from Google Drive:
https://drive.google.com/file/d/1KwoAHL ... sp=sharing